Planning The Ceremony
The parts:
Prelude – Soft music as guests arrive and are seated
Processional – Bridal  party and brides' entrance
Invocation – Introduction of the couple
Vows/Intent/Readings/Ring exchange – Exchange vows-Declare your intent-Exchange rings
Pronouncement – Minister/Officiant announces you and yours to your guests
Recessional –  Kiss that lovely bride and off you go
Now lets make it yours:
Have a chat
Sit down with your fiancé and have an honest discussion about what marriage means to you, and how you want to express that through your ceremony.  Talking about the marriage ceremony is a wonderful way to deepen the connection between you and your partner as you navigate the demands of planning a wedding.
Set the Mood
Set the tone for the rest of your wedding day by choosing the perfect backdrop for your ceremony. What kind of mood do you wish to evoke during your vows, an atmosphere that's grand and opulent, or romantic and intimate?  A place with sentimental value? The beach or somewhere you might be most comfortable- a park perhaps.
Your Voices
Whether you choose to follow a traditional wedding ceremony  or to make it all your own, one of the easiest ways to distinguish your ceremony from others is by selecting passages and readings that deeply reflect your individual views, either spiritual or secular, on what makes a strong marriage and partnership. Often you will be allowed to write your own words to say.
The Music
There is nothing in the world that speaks to the soul like music does. Our advice here is brief, but just as important: choose songs that have a special place in your heart and in your life. Walk down the aisle to the same song your mother did.  All we can say is, be sure to choose music that speaks to you and also reflects the overall tone and mood of your ceremony.  It can be something you heard on your first date, first fell in love – a wonderful memory.  Combinations of music can be your choice- Any combo or soloist: Piano, guitar, trumpet, sax, strings, vocalist. Its your ceremony!  There is no limit- be it classical, rock, reggae- any variation.  Have fun with choosing what works for both of you best.
 Word
Think about writing a short program.  Your program can include more than just the names of your bridal party. If your ceremony has special traditions that your guests may not have seen before, include a little background information for them. Most importantly , include special dedications and express your appreciation for all those who have supported you throughout the years. This is perhaps one of the best keepsakes any guest can take home with them. Its authentic -genuine- from you.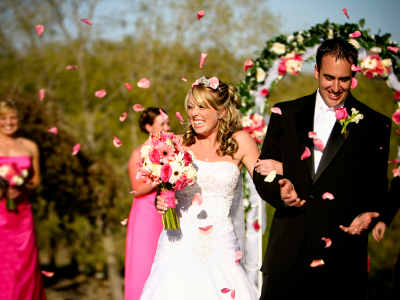 Processional
There's nothing like that moment when you're presented to your friends and family as an officially married couple for the first time, and you get to walk back up the aisle to the cheers of your loved ones. Make it even more fun and add that little musical flair to your recessional. The music can be upbeat- regal- stately- down right fun. Have fun!